Contents内容
Contents内容……………………………….………….……….………1 Preface前言……………………………………….….………….……..2 Warranty质保期…………………………………..……….………………2 1. Safety Instructions安全提示……………………….………….…….….3 2. Proper Use适用范围………………………………….……………..….3 3. Inspection检查………………………….……………….……..….6 3.1 Receiving Inspection验收……………….………..………….6 3.2 Listing of Items零件清单…………………………….…………….6 4. Trial run调试 ……………………………………….……….….….7 5. Control and Display控制及显示.………………………...……………….7
5.1 Control elements控制器 …….……………………………….....7 5.2 Display显示 ……………………..……………………………8 6. Operating Modes操作示例……………………..…………..…………8
6.1 Magnetic stirrer with hot plate operation
磁力搅拌器
操作说明(不带加热板)……..…………8
6.2 Hot Plate without stirring operation电热板操作说明(不带搅拌器)…………………..…9
6.3 Digital type operation 数显型操作说明 ………………………..……………….9 7. Faults错误…………………………………….…………..………12
8. Maintenance and Cleaning保养及清洁维护…………….…………............13 9. Storage and transportation存放及运输…………………..……………13 10. Main technical parameters主要技术参数…………….……………..……14 11. Working condition工作条件...………………………………..………14
-1-
Preface
前言
Thank you for purchasing our products: Hotplate / Magnetic Stirrer. Users should read this Manual carefully, follow the instructions and procedures, and beware of all the cautions when using this instrument.
感谢您购买我们的产品:电热板/磁力搅拌器。使用者需要仔细阅读该说明书根据提示操作本产品呢,并且在操作过程中注意所有注意事项。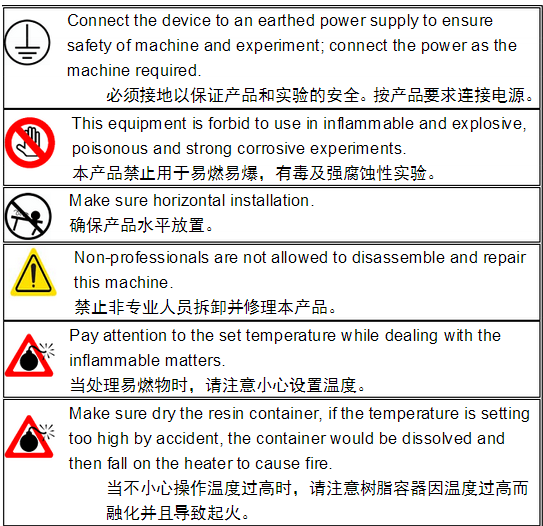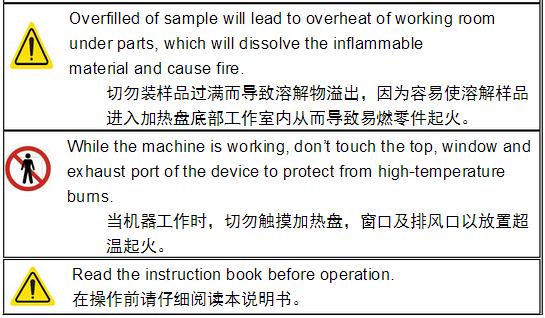 Warranty保修期
This instrument is warranted to be free from defects in materials and workmanship under normal use and service, for a period of 12 months from the date of invoice. The warranty is extended only to the original purchaser. It shall not apply to any product or parts which have been damaged on account of improper installation, improper connections, misuse, accident or abnormal conditions of operation.
For claim under the warranty please contact with us. You many also send the instrument direct to our works or we send you the spare parts to help you resolve this problem in next order, enclosing the invoice copy and by giving reasons for the claim. You would be solely liable for freight costs.
本产品在保修期为自售出日期开始后12个月。保修期仅适用于**初采购商。因进口商不正当安装,不正确连接,或者错误使用而导致产品损坏不在保修范围内。
1 Safety Instructions安全提示
• When working, ware the personal guard to avoid the risk from: •
当使用时,请注意人身安全以避免以下危险:
- Splashing and evaporation of liquids - Release of toxic or combustible gases. - 液体的喷溅及蒸发
- 有毒气体及可燃气体的释放。
•
Set up the instrument in a spacious area on an stable, clean, non-slip, dry and fireproof surface, do not operate the instrument in explosive atmospheres, with hazardous substances or under water.
•